Hotel de l'Empereur in Valkenburg
Hotel de l'Empereur in Valkenburg aan de Geul is back and fully open! The welcoming hotel with its historic marlstone façade looks more stunning than ever. Hotel de l'Empereur has been fully restored inside, with a new interior that is the perfect marriage of old and new. You can now come and enjoy a homely feel with a typical Limburg ambience in the vibrant heart of Valkenburg. Whether you are staying here or just having a bite to eat, Hotel de l'Empereur is a real experience. The hotel is bustling and lively, yet also offers plenty of scope to relax and unwind.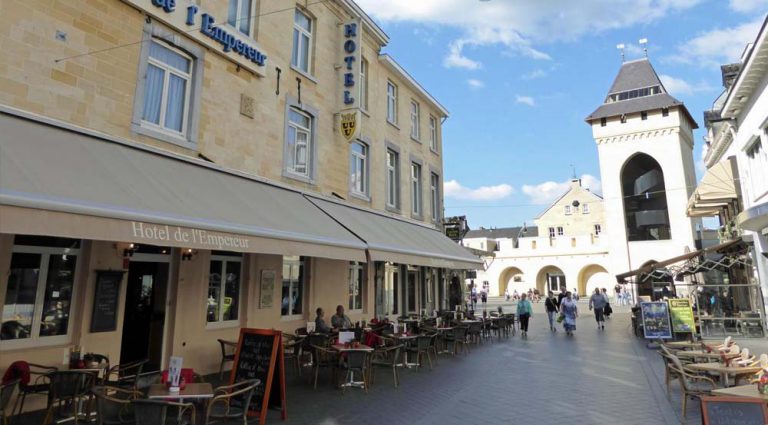 Service with a crown
In Hotel de l'Empereur, our guests are pampered with the best service, Empereur style.
Modern rooms
Completely renovated; a good bed, a lovely shower and a relaxed atmosphere in the middle of the bustling heart of Valkenburg. Hotel de l'Empereur will feel at home away from home.
Not fancy but ...
The very best quality. From a delicious breakfast, to mouthwatering pie or the best burger in town.
Just recharge
Not only guests can recharge in Hotel de l'Empereur, we will also reboost your bike with some well needed power, so you will be on the road again in no time.
Parking
Unique in Valkenburg, private parking on property, just a few footsteps between travel and stay.
In the heart of the city center
Location, location, location…. Need we say more?
A look behind the scenes
Stephan's mission is to make Hotel de l'Empereur the number one meeting place in Valkenburg for people of all ages. A place where you can completely unwind, enjoy delicious food, and head out to explore the gems of Valkenburg aan de Geul. With his dedicated team, Stephan makes sure that guests at Hotel de l'Empereur Valkenburg have everything they need. His motto is: 'I prefer quality over chic.' And that is precisely what the hotel radiates; superb quality and exceptional service, with a warm, family atmosphere. We combine personal attention with a laid-back ambience, so that everybody feels at home!
Things to do near
Ut condimentum magna ut augue elementum ornare. Fusce posuere massa vitae maximus posuere. Mauris sagittis consectetur vulputate. Curabitur commodo est quis felis porttitor eleifend. Sed efficitur sem mi, et feugiat lorem scelerisque.